UVEX Sport Downhill 2000 FM Chrome Yellow Chrome Snow Goggles / Yellow Mirror Lenses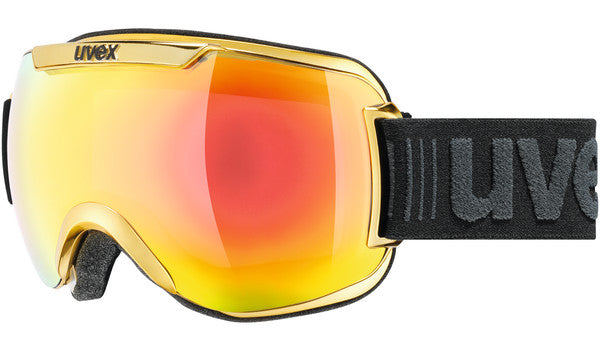 $89.99 $179.99
Free Shipping & Free Returns
Head protection for the young guns. The lightweight uvex airwing 2 pro kids ski helmet provides high end protection from the very beginning.
PRODUCT DETAILS
A perfectly safe kids helmet
The uvex airwing 2 pro kids ski helmet with its mat color effect looks fantastic and ensures the highest possible visibility on the ski pistes for the youngest ones. Perfect fitting and highest safety standards make this kids ski helmet a "must have" for every child. The uvex airwing 2 pro ski helmet can be easily adjusted via the uvex IAS size adjustment system and Monomatic closing. Three different shell sizes ensure perfect fit on the head. The anti-allergic inner lining is removable.
TECHNICAL FEATURES
IAS systems at a glance
Light and stable
Perfect hold
Removable and washable lining
Perfect, draught-free heat climate
Button-press adjustment
Removable earpads
SIZE: 58-52cm
_____________________________________________________________________
All-time classic, uvex downhill 2000, gets a brilliant update with a chrome frame. Extra-wide field of view and full mirror lens complement the uvex chrome design, perfectly.
PRODUCT DESCRIPTION
All-time classic
uvex downhill 2000 has protected generations of skiers. From snow, wind and sun, from World Cup to backcountry. Launched in 1971, uvex downhill 2000 continues its story into the 21st century.
Part of the Limited Edition uvex Iconic Collection, downhill 2000 FM chrome has a glamorous appearance. uvex chrome coating has a long history. First used at the 2001 Alpine Ski World Cup, it helped uvex products stand out. The shiny design complements the full mirror lens perfectly. It protects against bright sunlight and reduces distracting glare on the slopes. The skier's field of view is never restricted. The injection moulded, decentred lens, vision is free from distortions. Combined with an extremely narrow frame design, it provides an extremely wide field of view. For extra safety, uvex supravision® anti-fog coating ensures a clear view, even in poor weather.
Made for: stylish nostalgics
Special features: uvex chrome coating, full mirror lens, supravision® anti-fog coating, decentered lens
TECHNICAL FEATURES
Distortion-free vision
Ultimate anti-fog coating
Uv-ex = ultraviolet excluded
Double lens
Free Shipping & Easy Returns
Free 1-4 Day Shipping. Processing times vary by item.
We've got your back
Chat us or email ask@nyglass.com
Best Price Guarantee
Find a better price up to 7 days after your purchase and we'll match it.