UVEX Sport Contest FM Matte Black Snow Goggles / Blue Mirror Lenses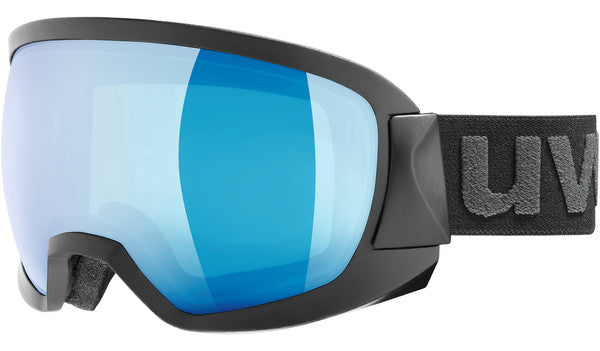 $84.99 $169.99
Free Shipping & Free Returns
New uvex contest FM doesn't just score highly in competition, it serves up style in powder or park: wide design, extra large field of view and full mirror lens.
PRODUCT DESCRIPTION
Developed with champions
uvex contest FM sets a new level in ski goggles. The goggle was developed over many months, in collaboration with World Cup stars, including Dominik Paris, Max Franz and Victor Muffat-Jeandet. They had one goal: set new standards in visual quality.
The result: a goggle with a wide design and extremely narrow frame, which creates an extra-wide field of view. You can see even more of the surroundings, in more detail. Perfect for the steepest descents or a run through the park. Special link system on the frame means uvex contest FM sits firmly, yet comfortably, on the face. It fits snugly into the helmet, for more comfort, freedom of movement, and improved aerodynamics. Full mirror lens reduces distracting glare, protects from bright sunlight, and creates a strong style statement. The injection moulded, decentred lens provides a distortion-free view. For long-lasting fog-free protection, the lens is coated with uvex supravision® technology.
Made for: wide angle perfectionists
Special features: full mirror lens, supravision® anti-fog coating, decentered lens
TECHNICAL FEATURES
Distortion-free vision
Ultimate anti-fog coating
Uv-ex = ultraviolet excluded
Double lens
Free Shipping & Easy Returns
Free 1-4 Day Shipping. Processing times vary by item.
We've got your back
Chat us or email ask@nyglass.com
Best Price Guarantee
Find a better price up to 7 days after your purchase and we'll match it.