Pretty Frank Palo Santo Zinc 2oz Jar Deodorant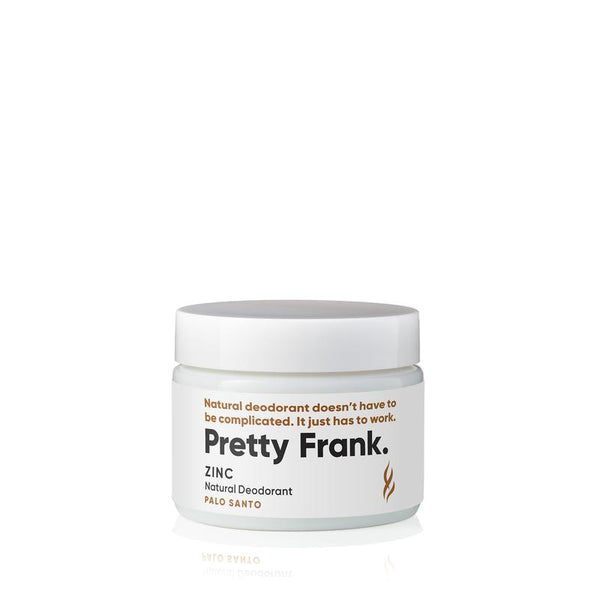 Free Shipping & Free Returns
This aluminum and baking soda-free natural deodorant makes your pits smell fresh and woodsy, with a hint of sweet citrus.
- All-day odor protection courtesy of non-nano zinc oxide & magnesium hydroxide
- Organic arrowroot powder keeps you feelin' fresh and dry
- Packaged in eco-friendly 2 oz. white glass
- Made by real people in Austin, Texas
PRODUCT INGREDIENTS
No aluminum. No parabens. No synthetics. No B.S.

Ingredients: Organic Arrowroot Powder, Organic Shea Butter, Organinc Coconut Oil, Magnesium Hydroxide, Caprylic/Capric Triglyceride, Zinc Oxide, Candelilla Wax, Palo Santo Essential Oil*, Rosewood Essential Oil, Frankincense Essential Oil, Vetiver Essential Oil, Vitamin E
*Steam distilled using only branches that fall naturally to the ground.
Directions
1. Scoop out a pea-sized amount per pit. Remember... a little goes a long way.
2. Rub into the center of each pit.
3. Wait 5 minutes before getting dressed to allow deodorant to fully absorb.
Free Shipping & Easy Returns
Free 1-4 Day Shipping. Processing times vary by item.
We've got your back
Chat us or email ask@nyglass.com
Best Price Guarantee
Find a better price up to 7 days after your purchase and we'll match it.