Flying Fisherman Slack Tide 7756 Granite Sunglasses, Amber-Green Mirror Lenses
$29.95
Free Shipping & Free Returns
Slack Tide is a sporty small to medium fit wrap frame with great coverage to block out polarized glare. Temples on the Slack Tide come with a cut out for complete customization for lanyard of your choice.ξ Lightweight frame for all day comfort.ξ Available in a variety of lens color options.ξ AcuTint lens coloring system adds color contrast without distorting natural colors, allowing you to see more clearly.ξ 100% Protection From Harmful UVA and UVB Rays.ξ Scratch resistant, lightweight, and durable.ξ Polarized lenses eliminate glare and reduce eye fatigue.ξ 1 Year Limited Warranty.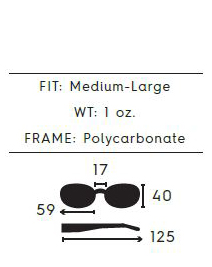 Free Shipping & Easy Returns
Free 1-4 Day Shipping. Processing times vary by item.
We've got your back
Chat us or email ask@nyglass.com
Best Price Guarantee
Find a better price up to 7 days after your purchase and we'll match it.