Flying Fisherman - Razor 7717 Matte Black Sunglasses, Smoke Lenses
$19.99 $24.95
Free Shipping & Free Returns
The Razor provides comfort with its larger wrap around frame and features durable double injected rubber temple and nose pads for a non-slip fit.ξ The Flying Fisherman AcuTint lens coloring system provides crystal clear polarized optics, making it easier to spot fish and structure beneath the surface of the water.ξξLimited One Year Warranty.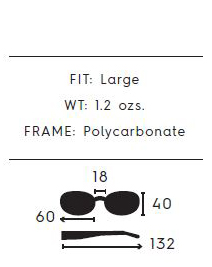 Free Shipping & Free Returns
Free 1-3 Day Shipping. Returns are free & open ended.
We've got your back
Chat us or email ask@nyglass.com
Best Price Guarantee
Find a better price up to 7 days after your purchase and we'll match it.