Flying Fisherman - Fowey 7837 Crystal-Matte Black Sunglasses, Copper Lenses
$19.99 $24.95
Free Shipping & Free Returns
The Fowey, always the classic look, the wayfarer frame style is front and center for Flying Fisherman Action Angler sunglasses collection. AcuTint polarized TAC lenses that are optically clear resist fogging, shrinking and scratching, and provide 100% UV protection and impact resistance. The polycarbonate frames are designed with a lightweight, comfortable fit and provide anglers with awesome durability. Polarized Lenses Eliminate Glare and Reduce Eye Fatigue. Polarized Triacetate Lenses are Impact and Scratch Resistant, Lightweight and Durable. AcuTint Lens Coloring System Adds Color Contrast Without Distorting Natural Colors, Allowing You To See More Clearly. 100% Protection From Harmful UVA and UVB Rays. Limited One Year Warranty.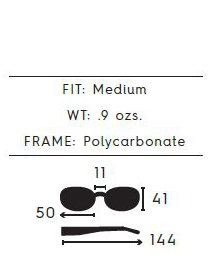 Free Shipping & Free Returns
Free 1-3 Day Shipping. Returns are free & open ended.
We've got your back
Chat us or email ask@nyglass.com
Best Price Guarantee
Find a better price up to 7 days after your purchase and we'll match it.