Flying Fisherman - Cayo 7824 Matte Black Sunglasses, Smoke Lenses
$19.99 $24.95
Free Shipping & Free Returns
The Cayoäó»s triacetate lenses are polarized, optically clear, resist fogging, shrinking and scratching and block 100% of harmful UV rays. The polycarbonate frames offer non-slip nose and temple pads for added comfort and performance on or off the water. Polarized Lenses Eliminate Glare and Reduce Eye Fatigue. Polarized Triacetate Lenses are Impact and Scratch Resistant, Lightweight and Durable. AcuTint Lens Coloring System Adds Color Contrast Without Distorting Natural Colors, Allowing You To See More Clearly. 100% Protection From Harmful UVA and UVB Rays. Limited One Year Warranty.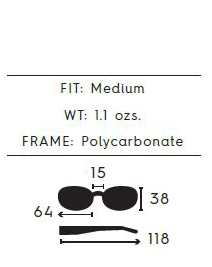 Free Shipping & Returns
Returns are open ended. Returnable in original condition with free return shipping.
Unreal Customer Service
Have a question? We live and breathe this stuff. Email ask@nyglass.com or chat with us and we'll get back to you ASAP.
The Best Price Guaranteed
Find a better price up to 7 days after your purchase and we'll match it.